Student Spotlight
---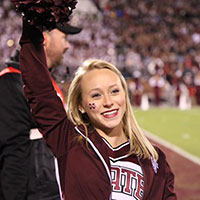 Alexandra Hoven
MSU Cheer Leader and Poultry Science Pre Vet Major , Alexandra Hoven says, " Poultry Science is not a program many people are familiar with and I always get a flood of questions when I tell people what my major is. I chose this major because it is offering me unique coursework and experiences to enhance my undergraduate education and it is an interesting pathway to help me stand out when the time comes to apply to vet school! I love the Poultry Science department for multiple reasons. It is a small, close-knit group of faculty and students who always make me feel welcome and anytime I walk into the building, I always see someone I know. My professors are very knowledgeable and always willing to have discussions or help me with the content, and as a member of the Poultry Science club I have had opportunities to help out in the community. I have learned so much in my first year in this program and I am looking forward to the next three years as a poultry science major! "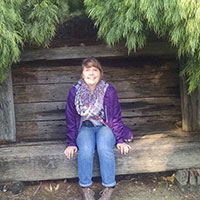 Chrysta Beck
Chrysta Beck is an ambassador in the College of Agriculture and Life Sciences. She is a poultry science major. "I hope to impact the world by carrying out research that will improve the poultry industry in some way. I want to help feed the world and make food less expensive and more accessible to everyone." she said. Upon graduation, she hopes to attend veterinary or graduate school. "I'm excited about the knowledge I will gain, the new experiences I will have, and the new friends I will make along the way," Chrysta said. Her favorite part of the poultry department is the size. "It feels like a family when you walk into the building, and the class sizes are small enough to ensure a hands-on experience with birds. Also, internships are easily attainable which allows for you to gain experience in the industry before beginning your career," she said. Chrysta chose to attend MSU when she was a senior in high school. "After visiting campus, talking with students, and visiting the poultry department, I knew this is where I wanted to be," she said. She tells potential students that even though MSU is a large university, it doesn't always feel that way. "Students, staff, and faculty here are friendly and welcoming. Since I'm from Ohio, it feels good to call MSU a second home. It is a university full of great people and plenty of opportunities for every student's future," she said.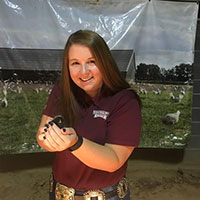 Kelsey Faulkner
Kelsey Faulkner is a poultry science major from Toney, Alabama. She anticipates graduating in May 2019. She grew up on a family farm where her family has a small cattle operation. She loves going home and being surrounded by rolling pastures filled with cattle, and the sunsets of North Alabama. Kelsey says, "I feel at home as a student at Mississippi State. Everyone is so hospitable and makes you feel like family. Plus, there are so many activities to choose from in Starkville. I fell in love with Mississippi State after my first visit and I continually find new things to love about this great university." In her free time, you can find her enjoying the outdoors, shooting photography, showing cattle, and spending time with friends and family. After attaining her bachelor's degree, she plans to further her education and attend veterinary school to obtain her Doctor of Veterinary Medicine degree. She then hopes to one day open up her own veterinary practice. An interesting fact about Kelsey is before she came to State, she was somewhat of a homebody. She kept to herself and spent most of time at home or at 4-H/FFA events. After she started school at Mississippi State, she began to become more involved and outgoing. She is now a member of multiple clubs and a sorority. "I feel like my experience as a student has helped me grow as a person."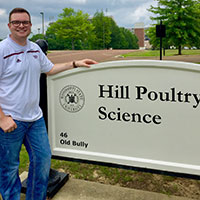 William Graves
William Graves is a poultry science major from Cleveland, Alabama and anticipates graduating in fall 2018. Graves has an interesting answer when asked to list his favorite thing about home. "Home is just a comforting word, isn't it? When I think of home, I love the thought of peace and quiet. Now that I am living in a college town, it's great to get away from the hustle and bustle and go home to see the cattle grazing, ride down country roads, and sit on the porch to listen to the songs of the crickets, cicadas, and frogs as the sun sets into the night. For me, being home helps me clear my mind. Sometimes I just need to take a step back and enjoy the simpler things in life. Spending time with family and old friends, seeing so many familiar faces—it brings back a lot of good memories! Home is not simply just a place, it's a feeling." William says that his favorite part of MSU is the people. He loves the College of Agriculture and Life Sciences and says "Our college excels in research. I think it's fascinating to look at all of the different studies being conducted in each of the departments." So where can we find William in his free time? He says, "If you don't find me at the poultry science building or on the farm, I'm probably going to be driving down the highway. Needless to say, I really enjoy traveling. Since moving to Mississippi, I find myself going on random day trips on the weekends to see everything that Mississippi is known for. I like to become familiar with the state that I live in. I also like to spend time relaxing, enjoying the outdoors, and hanging out with friends." At the moment he's still trying to figure out what direction to take his career. He wants to attend graduate school but he is taking it day by day and knows he will make his mind up eventually. A fun fact about Graves is at the bright, young age of 19, he was one of the youngest public officials in the state of Alabama. He served on city council in his hometown. He finished his term during the Fall 2016 semester, his first semester at MSU!
Quick Links
Contact