Prospective Students
---
The Poultry curriculum provides for in-depth study of scientific principles important in the production, processing and marketing of poultry and poultry products. The curriculum is designed with academic and experiential components to ensure that graduates are prepared to manage people and resources vital to this important food industry. Poultry students should also expect to develop creative thinking skills that will allow them to develop solutions for complex real world problems as they develop their careers as managers. The strong science content of the curriculum also makes it an excellent fit for pre-vet students and students interested in graduate studies. The department provides one-on-one advising for all Poultry Science students.
Applied Poultry Management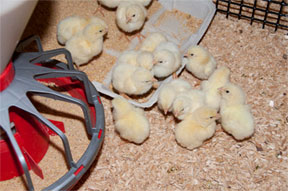 The applied management concentration satisfies all the requirements for a minor in Agribusiness. It prepares students to enter into all areas of the poultry industry with the knowledge necessary to be successful.
Science and Pre-Veterinary Science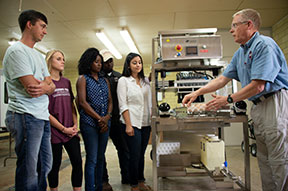 The Science and Pre-Veterinary Science concentration prepares a student for future programs at a graduate level and also allows a student to satisfy the pre-veterinary requirements while completing a B.S. in Poultry Science.
---
Academic Common Market
Academic common markets are available to out of state students residing in Tennessee, Kentucky, and South Carolina. For more information visit the ACM page.
---
Accelerated Program: Thrive in Five
Highly qualified undergraduates in the Poultry Science Department at Mississippi State University are encouraged to consider applying to the Accelerated Program. This program permits students to earn up to 9 hours of graduate-level coursework during their final year of undergraduate studies. Students take graduate-level courses and earn both undergraduate credit and graduate credit simultaneously. Students must consult with a potential major professor (graduate advisor) to ensure graduate credit could be applied to a program of study for the graduate degree. Application to this program may be made as early as the end of the junior year (i.e., after completion of 90 or more hours of graded undergraduate courses). Students interested in applying to the Accelerated Program should contact the Department's Graduate Coordinator, Dr. Kelley Wamsley, for more details. To find out more about the Accelerated Program visit https://www.msstate.edu/thriveinfive. To get started, complete the Undergraduate Enrollment in Accelerated Program Form.
---
Careers
Our research programs and teaching curriculum mirror current industry practices. As such, we have a large percentage of graduates that work in the industry and allied industry (62% as a current average). However, all seniors have opportunities for employment in the poultry industry. The department supports Mississippi's largest commodity, which has provided 100% placement of our graduates since the first Poultry Science degree was awarded in 1948. The poultry industry employs approximately 24,000 people in Mississippi with an additional 23,000 jobs created as an indirect effect of the poultry industry. Mississippi is home to seven broiler companies and the world's largest egg producing company. Entry-level jobs and training programs in these companies requiring a four year degree include, but are not limited to, the following areas: live production areas, the hatchery, the feed mill, and processing and products. Further, since poultry is a growing business and there are a limited number of Poultry Science graduates, students have career opportunities throughout the United States. A baccalaureate degree in Poultry Science is an excellent start to a career in agribusiness, or entry into veterinary school or graduate school.
---
Minors
The need for people who have specialized knowledge outside of classic poultry science is growing rapidly. Currently the industry recruits and employs personnel trained in areas such as accounting, biological sciences, computer science, human nutrition, nursing, microbiology, engineering, food technology, advertising and marketing, veterinary medicine, human resource management and law. A minor in Poultry Science provides these individuals with enhanced employment opportunities in the poultry industry.
---
Scholarships
Students may apply for university, college and departmental scholarships through one application. You can find the scholarship application once you logon to myState. Under the banner tab, select Financial Aid and Scholarships. The application is listed as Submit/Revise General Scholarship Application.
---
Transfer Students
Students may transfer to Mississippi State University from regionally accredited community, junior or senior colleges for any period of enrollment, provided they have earned a 2.0 GPA (as computed by Mississippi State University) on all college courses attempted as well as earned a 2.0 GPA on the 30-hours of core courses. Transfer students should look at the transfer course equivalent guide to determine which courses will transfer.
View the Transfer Course Equivalent Guide
Alcorn State University
Mississippi State and Alcorn State University have launched a dual-degree program that will allow students to earn bachelor's degrees from both universities. Students can complete 91 hours toward an ASU Bachelor of Science in Agriculture Science with a focus in animal science and then transfer to Mississippi State to complete the remaining 31 hours in coursework for an MSU Bachelor of Science in Poultry Science. Upon completion of the MSU coursework, students will graduate from both institutions with dual degrees.
Jones County Junior College
JCJC students transferring to MSU's poultry science program can expect a smoother transition thanks to a new two-plus-two agreement. The agreement goes into effect Fall 2013 and allows specific courses in JCJC's curricula to transfer to MSU's poultry science program. It is one of numerous two-plus-two curriculum agreements MSU has with Mississippi community colleges. As Mississippi's premier agricultural industry, poultry generates $2.47 billion each year and represents 33 percent of the state's total farm-gate value. Jones County is home to the state's biggest broiler producer, Sanderson Farms.
Nebraska College of Technical Agriculture/University of Nebraska
To address the needs of the expanding poultry industry in Nebraska, Mississippi State has partnered with the Nebraska College of Technical Agriculture (NCTA) to develop an Associate of Applied Science Agricultural Production Systems with a concentration in Poultry Science. Students attend three semesters at NCTA and one semester at MSU, plus work a summer internship. This provides hands-on curriculum and workforce training for NCTA students, who receive in-state tuition.
Quick Links
Contact