Research
Publications | Mississippi Agricultural and Forestry Experiment Station | Facilities
---
The Department of Poultry Science conducts research on the complete life cycle of poultry from the egg through the adult bird. Scientists conduct experiments to improve poultry processing and the quality of meat. Other studies examine feed alternatives, vaccines and bedding materials. Researchers also study game bird species.
Beating bacteria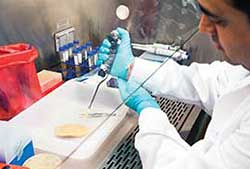 Approximately 2 million individuals in the U.S. contract foodborne illnesses from Salmonella and Campylobacter. While the first line of defense against these common bacteria is safe food handling practices by processors and consumers, Chander Sharma, Mississippi Agricultural and Forestry Experiment Station researcher and assistant professor in the Department of Poultry Science, is working to rid poultry of these common bacteria before it leaves the processing plant. He, along with a team of MSU scientists, is researching the use of lauric arginate, an antimicrobial compound approved by the USDA, as a processing aid assisting in the fight against Salmonella and Campylobacter. He is evaluating the use of bacteriophage—a virus that attacks bacteria—to combat the problem as well.
---
Distillers' Grains as a Feed Supplement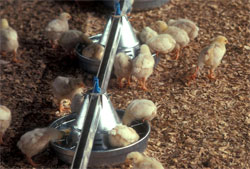 Increased ethanol production also means increased stocks of the by-product distillers dried grains with solubles (DDGS), as well as increased interest in finding uses for the nutrient-rich grains. A MAFES study evaluated second-cycle Bovans White laying hens that were fed varying amounts of DDGS. Researchers looked at layer performance, egg characteristics and consumer acceptability. Results showed that DDGS could comprise up to one-third of a commercial layer diet without any significant detrimental effects on the production or egg characteristics of second-cycle hens. A similar study measured breast and thigh meat quality in broilers fed DDGS-supplemented diets. Overall, the diets yielded high-quality breast meat, and thigh meat quality was similar among diets containing up to 12 percent DDGS.
---
Down the Line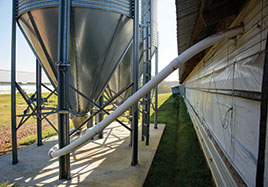 730 million broilers were raised on Mississippi farms in 2015. MAFES researchers hope to discover more efficient, cost-effective ways to deliver feed to so many birds. That's why Dr. Kelley Wamsley, MAFES researcher and assistant professor in the Department of Poultry Science, is studying how feed mill mechanics affect feed quality. Former MSU graduate student Ben Sellers conducted much of the research and Chris McDaniel, professor in the Department of Poultry Science, assisted on the projects.
---
MSU poultry science provides key research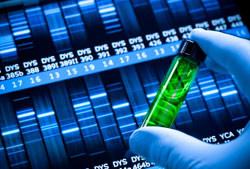 Poultry's spot as the state's No. 1 agricultural commodity is due in large part to a strong relationship between the poultry industry and Mississippi State University. MSU's poultry science department assists the growing industry through education, research and outreach to help improve production. Sanderson Farms, the fourth-largest U.S. poultry producer and processor, has been located in Laurel since 1955. The company has a longstanding relationship with MSU researchers.
"MSU's poultry science department has been integral in helping us make decisions of major significance," said Sanderson Farms corporate nutritionist Carla Price. "We can go to them at any time and make requests for research that can aid us in production decisions." She said Sanderson Farms always aims to provide their consumers with the highest quality product. When looking for broilers that produce the highest amount of meat per bird, they turned to Alex Corzo, assistant poultry science research professor at MSU.
To help Sanderson Farms find the right type of broilers, MSU scientists evaluated the genetic strains and feeding regimens of all the birds they were using. Through this, scientists were able to find the type of bird that would produce the highest yield of meat. There are many different broilers on the market, and producers are often in search of a specific type. One bird is not superior to another, but producers look for types that best fit their marketing strategies.
---
MSU researches poultry health, growth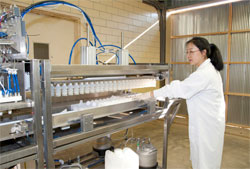 MAFES researchers are investigating ways to improve the nutrition and growth of the state's most profitable bird. One of the current projects is helping determine ways to increase the hatchability and health of broilers. Injecting eggs, also known as in ovo injection, is used to vaccinate poultry for diseases, but MSU researchers are finding a new way to use the procedure. Chicken embryos are made up of water, protein and fat. To get the energy they need to hatch, they have to convert that protein and fat into carbohydrates. So that the hatchlings can reserve their fat and protein for needed growth, scientists are injecting eggs with carbohydrates before they hatch. Thus far, the research indicates that in ovo injection of carbohydrates can provide benefits to commercially grown poultry with an earlier increase in body weight and good hatching. Scientists are also experimenting with injection of vitamin supplements.
---
Protecting the Surface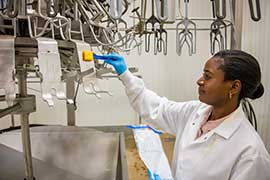 Of the many suspects that cause food safety issues in kitchens and food processing plants, biofilms, caused by bacteria such as Listeria monocytogenes and Salmonella, are a common culprit. MAFES scientists Dr. Ramakrishna Nannapaneni, who specializes in food science, nutrition and health promotion and Dr. Aaron Kiess, who specializes in poultry science, are taking a stand in biofilms, the growth of bacterial cells on surfaces that touch food. Through Nannapaneni and Kiess's research, they discovered that a mixture of disinfectants was far more effective than single compound disinfectants for removal of biofilms. Dr. Kiess's lab is also looking into how Salmonella survives on poultry processing equipment before and after cleaning cycles. They hope to continue research to determine how biofilm cells become denser, stronger, and spread as well as what mechanisms govern cross-resistance. By discovering this, they hope to figure out how these tough biofilms can be eradicated to enhance food safety.
---
Q&A with David Peebles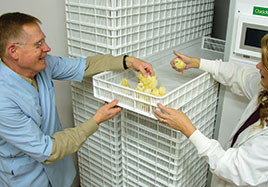 Poultry was a $3.2 billion dollar business in Mississippi in 2015. MAFES scientists conduct research that drives that industry forward. One such researcher is Dr. David Peebles. He's a MAFES scientist and professor in the Department of Poultry Science in the College of Agriculture and Life Sciences. He's called Mississippi State home for 28 years. Much of his research has been applied directly to the poultry industry while all of his students gain employment in their field of study. MAFES Discovers sat down with Peebles to discuss how his research role helps inform the poultry industry and discover how his academic appointment helps grow the poultry leaders of tomorrow.
---
Scientists Develop New Processing Technique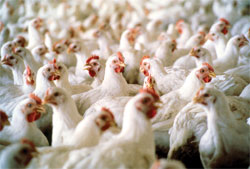 Technocatch, a poultry processing research company, recently teamed with processing company OK Foods and MAFES to develop an alternative to electric stunning and gas systems for processing chickens for consumption. The new method, called LAPS (low-atmospheric pressure system), uses a vacuum system to reduce oxygen levels in a machine that can house up to 60 broilers per chamber. LAPS eventually renders the birds unconscious and then —borrowing a term coined by the USDA— "irreversibly stunned." Initial testing for LAPS began in the Mississippi State poultry laboratory. LAPS received the American Humane Association (AHA) seal of approval, and the USDA officially stated it has "no objections to the system or its protocol." LAPS provides a humane method of processing poultry compared with the current methods employed.
---
Treatments to Reduce Bacteria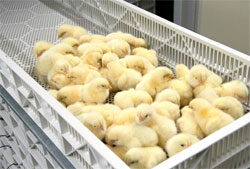 Poor hatchability can occur due to eggshell bacterial contamination, which can be decreased by UV light or hydrogen peroxide. However, the antimicrobial effects of these two treatments combined are not known. MAFES scientists sought to determine if a greater bacterial reduction would occur using a combination of UV and hydrogen peroxide. Results indicated that the combined treatments further reduced bacterial contamination compared with each treatment individually.
---