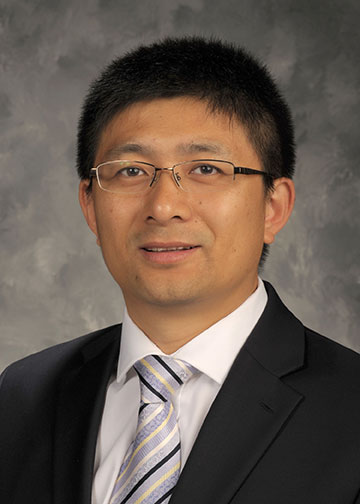 Li Zhang
Assistant Research Professor
Mailing Address:
325 Wise Center Drive
Mississippi State, MS 39762
Research:
Bacterial genetics and genomics
Infectious diseases and antimicrobial resistance
Vaccine development
Molecular detection of pathogens
Gut microbiome and health
Graduate Students
Publications
2021
Fancher, C. A., H. T. Thames, M. G. Colvin, L. Zhang, N. Nuthalapati, A. Kiess, T. T. Dinh, A. Theradiyil Sukumaran. 2021. Research note: Prevalence and molecular characteristics of Clostridium perfringens in 'no antibiotics ever' broiler farms. Poultry Science 100(11):101414.
Download
2020
Fancher, C. A., L. Zhang, A. S. Kiess, P. A. Adhikari, T. T. Dinh, A. Theradiyil Sukumaran. 2020. Avian pathogenic Escherichia coli and Clostridium perfringens: Challenges in no antibiotics ever broiler production and potential solutions. Microorganisms 8(10):1533.
Download
2019
Shao, Z., Z. Zhang, H. Fan, X. Wang, H. Wu, L. Zhang, W.-H. Cheng, J. Zhu. 2019. Selenoprotein T promotes proliferation and G1-to-S transition in SK-N-SH cells: Implications in Parkinson's Disease. Journal of Nutrition 149:2110-2119.
Download
2019
Zhang, L., J. H. Zhu, X. Zhang, W.-H. Cheng. 2019. The thioredoxin-like family of selenoproteins: Implications in aging and age-related degeneration. Biological Trace Element Research 188:189-195.
Download
2019
Zhao, Z., C. Wang, L. Zhang, Y. Zhao, C. Duan, X. Zhang, L. Gao, S. Li. 2019. Lactobacillus plantarum NA136 improves the non-alcoholic fatty liver disease by modulating the AMPK/Nrf2 pathway. Applied Microbiology and Biotechnology 103(14):5843-5850.
Download
2018
Lu, H.-Y., H. Zeng, L. Zhang, J. M. Porres, W.-H. Cheng. 2018. Fecal fermentation products of common bean-derived fiber inhibit C/EBPα and PPARγ expression and lipid accumulation but stimulate PPARδ and UCP2 expression in the adipogenesis of 3T3-L1 cells. The Journal of Nutritional Biochemistry 60:9-15.
Download
2018
Zhang, L., H. Zeng, W.-H. Cheng. 2018. Beneficial and paradoxical roles of selenium at nutritional levels of intake in healthspan and longevity. Free Radical Biology and Medicine 127:3-13.
Download
2017
Cao, L., L. Zhang, H. Zeng, R. T. Wu, T.-L. Wu, W.-H. Cheng. 2017. Analyses of selenotranscriptomes and selenium concentrations in response to dietary selenium deficiency and age reveal common and distinct patterns by tissue and sex in telomere-dysfunctional mice. The Journal of Nutrition 147(10): 1858-1866.
Download